Top 7 Adventure Things to Do in Georgia for a Vacation
Do you want a unique and thrilling holiday that blends amazing landscape, breath-taking adventure, and vibrant culture into one unforgettable experience? Look no further than Georgia. Georgia's charm as a tourism destination is attractive to travellers from Dubai nestling in the cusp between Eastern Europe and Western Asia. There are a lot of amazing things that will happen in the Georgia trip, from hiking in the beautiful Svaneti Mountains to tasting some of Georgia's famous wines. Get ready for an amazing trip that will take you to take a deep breath of Georgia's natural beauty and make memories that will last a lifetime.
Top 7 Adventure Things to Do in Georgia for a Vacation
1) Hiking in Svaneti
There's no place like Svaneti for a trekker in North-Western Georgia. The natural beauty of this highland region is unsurpassed, with its snowy summits, pastures dotted among rocks, and typical Svanetian high peaks or "towers". Svaneti hiking tour represents exploration of pristine nature with introduction into remarkable Svanetian way of life. There is something for every level of experience and ability on any route; a beginner who is a hiker will not feel left out!
2) Skiing in Gudauri
Skiing in Georgia is great, with the Gudauri ski resort being an ideal spot for any enthusiast of winter sports. It's a superb location with nicely groomed slopes and up to date amenities suited for both beginner and advance skiers. Those who love skiing will find that winter in Georgia – that's from December to March-the height of exhilaration.
3) Caving in Uplistsikhe
The remarkable cave-city of Uplistsikhe is an interesting historical place. This is an amazing chance to explore ancient Georgian civilization carved in the rocks of the Mtkvari river valley. The complexity in the design of the cave city's interior is an indication of mastery displayed by the ancient people.
4) Paragliding in Kazbegi
Paragliding in Kazbegi National Park, which boasts an amazing mountain panorama, is a must-do. The place's beauty from above as seen in aerial photograph over medieval castles in valleys has given it that name. This one can guarantees as much fun as breathtaking wide-viewed scenery.
5) Canyoning in Martvili
The beautiful canyons of Martvili are situated in Samegrelo region area. This is one of the unique ways in which can you can engage in exploring such amazing creations by nature. You will go through the Narrows by narrow, watery gorges, rocky ascents and shallow pools. It's a fabulous way of exposing oneself to geology and splendor of the place.
6) Mountain Biking in Borjomi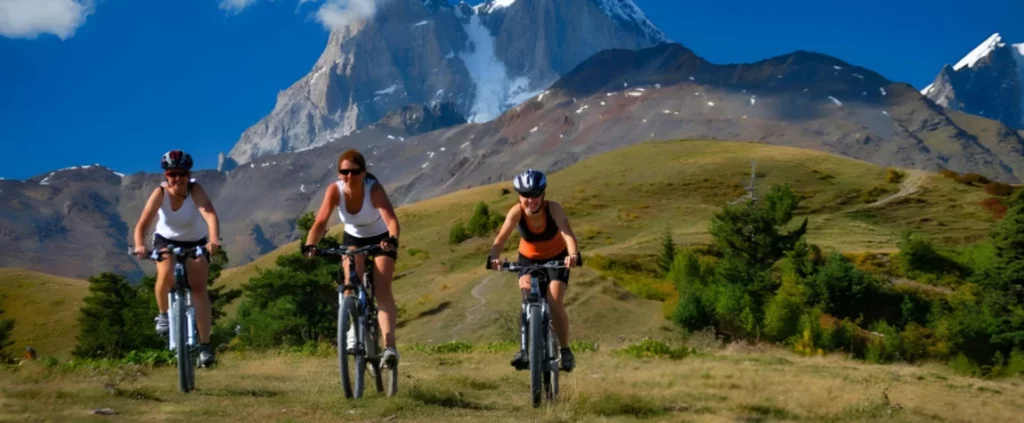 The resort town of Borjomi is situated in central Georgia among beautiful woods and picturesque paths. The place is great for mountain bike. There are numerous trails available which cater for all kinds of skills ensuring this is an ideal adventure for novices as well as skilled riders.
7) Wine Tasting in Kakheti
One would need a rejuvenation tour in wine paradise of Kakheti after all that adrenaline rush! You should go on a guided visit to the wineries at different estates; discover amazing Georgian wines and enjoy delicious food. This is an awesome cultural thrill complementing the outdoor escapades.
Conclusion
This means that with Georgia holiday package from Dubai travellers can embark on such fantastic adventures at once. With wonderfully clean seaside beaches, breath-taking mountain and valley landscapes teeming with wildlife and outdoor adventure, combined with a heritage of 8000 years, Georgia is sure to offer something special for any visitor. Book your package today for Georgia tour. It's a destination offering lifetime memory and understanding of this amazing place. You are welcome in Georgia, there are unlimited stories waiting for you.