The top 8 places to celebrate Christmas Day in Dubai
Dubai becomes a dazzling paradise of seasonal wonder and delight as the holiday season comes near. This desert city turns into a winter wonderland, delivering a Christmas celebration like any other country with its dazzling skyline, luxurious shopping, and unique combination of cultures. We're excited to walk you through the top locations in Dubai to celebrate Christmas Day, which is expertly attached into the overall picture of a city tour of Dubai.
Every venue promises a different experience that reflects the spirit of Christmas in this vibrant city, from beaches beauty to winter thrills. So come along with me as we set out on an adventure to discover the captivating celebrations that Dubai has to offer at this most magical time of year. Prepare to be amazed with the Christmas enchantment right in the middle of this energetic city.
Here are The top 8 places to celebrate Christmas Day in Dubai
1. Winter Wonderland at Ski Dubai
Enjoy a snowy adventure at Ski Dubai, which is part of the Mall of the Emirates, to start off your Christmas celebrations. You can easily fit this indoor winter wonderland into your schedule with a Dubai city tour. In the middle of the desert, enjoy snowboarding, skiing and even building your own snowman.
2. Dubai Mall's Enchanting Decor
The magnificent Christmas decorations at the Dubai Mall will enchant you as you immerse yourself in the epicentre of opulence and entertainment. Take a trip around the mall to see its enormous Christmas tree, sparkling lights, and holiday displays that delight both tourists and customers.
3. Madinat Jumeirah's Festive Souk
Visit the festive souk in Madinat Jumeirah; without one, your tour of Dubai's cities wouldn't be complete. Take in the enchanting ambiance featuring traditional market booths, carol singers, and the breathtaking Burj Al Arab as your backdrop. It's the ideal location to indulge on holiday delights and discover unusual Christmas gifts.
4. Christmas concerts at Dubai Opera
If you're looking for a little sophistication, don't miss this lovely Christmas event. See top-notch talent right in the middle of the city by checking the schedule for special holiday concerts. This cultural treasure is readily included in your Dubai city trip for an unforgettable evening.
5. JBR's Festive Beachfront Celebrations
Enjoy Christmas by the beach at Jumeirah Beach Residences (JBR) with their festive beachfront celebrations. With its festive décor, on-site entertainment, and upbeat vibe, the entire place comes to life. Enjoy the holiday atmosphere by taking a leisurely stroll along The Walk and taking in the sea breeze.
6. International Village Events
Don't forget to incorporate a visit to the Global Village, a Christmastime cultural spectacle, in your tour of Dubai. Discover regional cuisines and take in country-specific holiday decorations as you explore various pavilions offering a truly global Christmas experience.
7. Dubai Creek Dhow Cruise
Take a Dhow Cruise on Dubai Creek to add a special touch to your Christmas celebrations. Savour a Christmas dinner on the waterfront while taking in stunning views of the city's skyline illuminated for the holidays. It's a wonderful experience that wraps up good eating and sightseeing into one unforgettable bundle.
8. A spectacular fireworks display in Atlantis, The Palm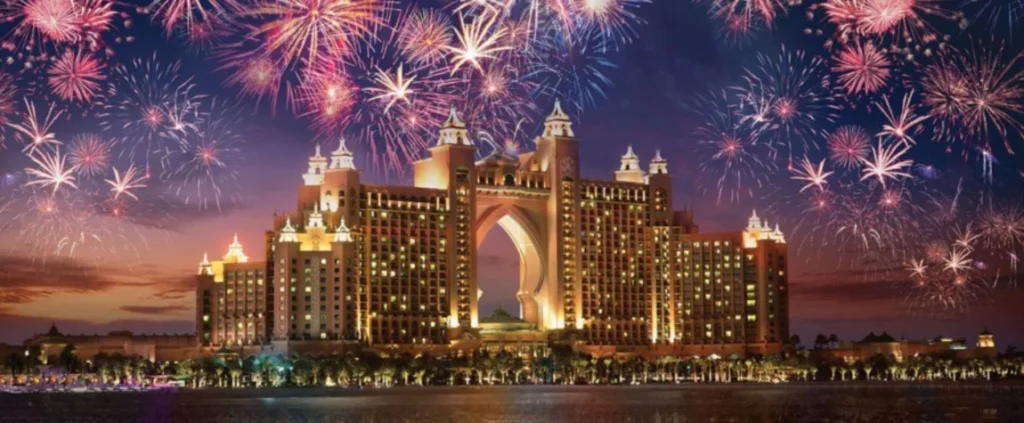 Atlantis, The Palm, finish your Christmas Day with a bang. Every night, the famous resort puts on a spectacular fireworks show that lights up the night sky. This spectacular end to your joyous celebrations would be the highlight of your Dubai city trip.
Conclusion
As we conclude our review of Dubai's top Christmas events, which are expertly woven into the charm of a city tour, the city's holiday spirit emerges in a breathtaking show of charm and diversity. Every destination has created a striking image of Christmas magic, from the winter adventures at Ski Dubai to the luxury of the Dubai Mall, the festive souk at Madinat Jumeirah Beach to the international journey of the Global Village.
The concerts at Dubai Opera, the beachside celebration at JBR, the peaceful Show Cruise on Dubai Creek, and the spectacular fireworks finale at Atlantis, The Palm all demonstrate Dubai's dedication to luxury and hospitality. As we say goodbye to this wonderful journey, Dubai's Christmas celebration is proof of its exceptional capacity to create magical experiences for both locals and tourists. May the enchantment and comfort of Dubai's holiday vibe last, inspiring wonderful moments and lasting memories throughout the year.