The Top 10 Things You Need To Try In Jordan
In the heart of the Middle East, Jordan blends ancient history with breathtaking natural beauty. From the rose-colored city of Petra to the otherworldly landscapes of Wadi Rum, Jordan offers travellers a treasure trove of adventure, culture, and relaxation. Here is the top activities you must do in Jordan to make your trip unforgettable.
Jordan's history spans millennia, and its relics are scattered around the country. You'll be transported back in time while exploring Pétra, one of the New Seven Wonders of the World, and Jerash, a Roman marvel. Jordan has diverse landscapes, from the deserts of Wadi Rum, where you may camp under a star-studded sky, to the Dead Sea, where you can float on its hypersalinous waters. This guide will reveal Jordan's top 10 must-try experiences, ensuring you make the most of your visit to this interesting destination.
The Top 10 Things You Need To Try In Jordan
1. Explore Pétra's Lost City
No Jordan holiday is complete without Petra. Petra, the "Rose City" for its rose-colored sandstone cliffs, is a UNESCO World Heritage Site and New Seven Wonder of the World. Human and artistic expertise were used to carve the Nabatean city into the rock face 2,000 years ago.
To properly see Petra, take the legendary journey through the Siq, a tiny, twisting gorge flanked by towering cliffs that opens out to reveal the Treasury (Al-Khazneh). With its intricate facade and mystique, the Treasury has captivated travellers for centuries. Beyond the Treasury, you'll find a wealth of archaeological wonders, including the Royal Tombs, the Monastery (Ad-Der), and the High Placе of Sacrifice, which showcase the ancient Nabateans' engineering and architecture.
For the most adventurous, go up to the Monastery for panoramic views of Petra and the surrounding desert. Exploring Petra is like stepping back in time and will amaze and inspire you.
 2. Camp in the Surreal Wadi Rum Desert
Also known as the "Valley of the Moon," Wadi Rum is a desolate, otherworldly desert that has inspired generations of travellers and explorers. This huge desert wilderness in southern Jordan is known for its towering sandstone mountains, immense sand dunes, and red sands.
Spend a night or two camping under the starry desert sky to immerse yourself in Wadi Rum's timeless beauty. Many nearby Bedouin tribes provide guided desert excursions, complete with traditional meals and the chance to experience nomadic life. Explore the desert by jeep, camel, or foot, discovering ancient petroglyphs, tight valleys, and hidden oases.
As the sun sets over the desert, the rocks and sands become orange and purple, creating a surreal landscape. Stargazing in Wadi Rum is wonderful because the lack of light pollution lets you see the Milky Way and constellations clearly.
3. Float in Dead Sea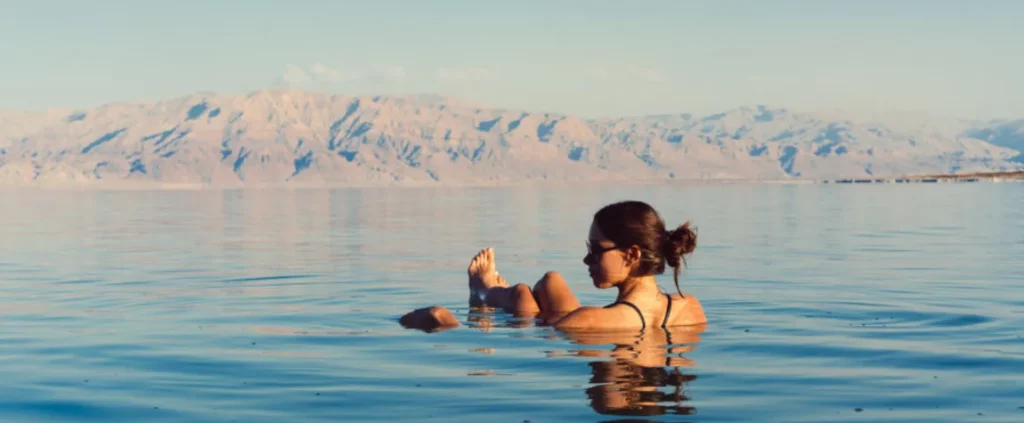 Visit Jordan's Dead Sea, one of the world's most distinctive natural beauties. This hyperinine lake, bordered by Jordan to the east and Israel and Palestine to the west, has solid waters and healing mud. As the Dead Sea is too salty to sink, floating on its surface is a memorable experience.
Many guests take mud baths or masks on the Dead Sea because the mineral-rich mud is believed to heal. Mud is claimed to be good for your skin, cure many skin conditions, and make you feel younger.
Book a day at one of the finest Dead Sea resorts to bathe in the sea's unique waters, get spa treatments, and take in the surrounding landscapes. The Dead Sea is a natural wonder and a therapeutic retreat that offers a break from daily life.
4. Visit Jerash, an ancient Roman city.
Jerash, a well-preserved Roman archaeological site in northern Jordan, gives a look into the past. The ancient city of "Gerasa" was a major Roman hub in the Middle East and includes numerous ruins.
Through Jérash's colonnaded streets, you'll see stunning attractions like the Oval Plaza, the Temple of Artemis, and the South Theatre, where performances are still held. The city's majestic entrance, Hadrian's Arch, commemorates the Roman Emperor Hadrian's visit.
Jerash comes alive during the July Jerash Festival of Culture and Arts, which features music, dance, and theatrical performances that transport visitors to Roman times. Exploring Jerash is a historical journey that contrasts with Pétra's ancient wonders.
5. Discover Amman's Citadel and Roman Theatre
Amman, Jordan's capital, is a bustling millennium-old city. The Amman Citadel displays the city's Bronze Age through Islamic history in the city centre. The Temple of Hercules, with its towering columns supporting a colossal building devoted to the mythical hero, is the most notable landmark of the Amman Citadel. This lofty spot gives panoramic views of Amman's contemporary skyline.
Visit the Roman Theatre, a remarkable amphitheatre that could hold over 6,000 people. Even now, it holds events and performances and shows Roman architecture. Modern appeal, lively markets, delicious street cuisine, and dynamic art scene are also worth exploring in Amman. Tourism in the city offers a unique blend of ancient history and modern culture.
6. Visit the Dana Biosphere Reserve.
Jordan has diverse and pristinе natural landscapes as well as ancient cities and deserts. The Dana Biospheric Reserve in southern Jordan is the country's largest nature reserve and a paradise for hikers and nature lovers. The reserve has rugged mountains, deep gorges, desert plateaus, and lush valleys. Exploring Dana reveals unique flora and wildlife, including the Nubian ibis and bird species.
One of the most popular treks in the Dana Reserve is the Dana to Petra, a multi-day walk across Jordan's most stunning landscapes. While travelling, you may stay in Bedouin camps, interact with locals, and experience the Jordanian wilderness. Whether you're a hiker or just like nature, Dana Biosphеrе Reserve offers an unforgettable outdoor experience.
7. Savour Jordanian Cuisine
Jordanian food an excellent mixture of Mediterranean, Middle Eastern, and North African ingredients. Jordan has a variety of delicious foods to try. Start your culinary journey with Mansaf, the national meal, a savoury lamb dish cooked in flavoured yoghurt sauce and served with rice and pine nuts. Jordanian mezze, a variety of tiny, tasty dishes including hummus, falafel, and tabbouleh served with fresh pita bread, is a must-try.
Be sure to try Jordan's street food. Shawarma and falafel wraps are readily available and delicious. Consider taking a local cooking class or eating with a Jordanian family to learn how to create authentic dishes and experience the country's rich culinary traditions.
8. Visit Jesus' baptism site
The Baptism Site of Jesus is a memorable experience for religious and historical site visitors. John the Baptist baptised Jesus at this sacred site on the eastern bank of the Jordan River.
The baptism The site is home to many churches and historical artefacts, including the Jordan River, where many pilgrims are baptised. Tourists from across the globe visit this site to commemorate this crucial event in Christian history and immerse themselves in the spiritual atmosphere of the area. Whether you're a Christian or interested in history and spirituality, the Baptism Site is unique and humbling.
9. Explore Ancient Madaba
In central Jordan, Madaba, the "City of Mosaics," is a lovely town famed for its intricate mosaic work. St. George's Church displays Madaba's most famous mosaic, the Madaba Map. This sixth-century mosaic map of the Holy Land is one of the oldest known floor mosaics and provides a fascinating glimpse into the region's geography and history.
Madaba has several mosaic-adorned churches outside St. George's Church. While walking the town's streets, you'll see craftsmen making mosaic pieces and businesses selling a variety of mosaic art, giving you the chance to buy one. Madaba is also a gateway to other sites including Mount Nebo, where Moses glimpsed the Promised Land, and Ma'in Hot Springs, where you may relax in warm, mineral-rich water in beautiful settings.
10. Experience Bedouin Hospitality in Wadi Feynan
Spend a night at the Feynan Ecolodge in Wadi Feynan to immerse yourself in Jordanian culture. In the heart of the Dana Biosphere Reserve, this eco-friendly lodge offers a unique Bedouin experience.
The Finnan Eco Lodge is designed to minimise environmental effect while delivering a comfortable and enriching visit. You may enjoy delicious traditional Jordanian meals with locally sourced ingredients and participate in stargazing, guided hikes, and Bedouin culture workshops here. The remote setting of Wadi Feynan lets you disconnect from modern life and connect with Bedouin culture. You'll learn about desert cultures, storytelling, and sustainability.
Conclusion
Jordan is a mesmerising journey that captures the essence of the Middle East, rich in history, culture, and natural beauty. The top experiences we've explored, from Petra's ancient wonders to Wadi Rum's serene landscapes, from Jesus' baptism site to Jordan's tantalising cuisine, offer a diverse tapestry of adventures for every traveller. Jordan is an unforgettable experience that transcends time and place, leaving an indelible impact on your heart and spirit.
There are several Jordan holiday packages from Dubai and other nearby countries that make seeing this magnificent nation easy. These packages often include guided tours, lodgings, and transportation, letting you completely immerse yourself in Jordan's wonders without having to prepare everything. A Jordan tour package may enhance your experience, ensuring that you make the most of your time in this interesting nation, whether you're travelling alone, romantically, or with family.
Jordan is a timeless adventure, not simply a destination. So pack your bags, set off on your Jordanian expedition, and prepare to be enchanted by the ancient marvels, natural splendours, and warm hospitality in this extraordinary corner of the globe.