The top 10 facts about Sea World Abu Dhabi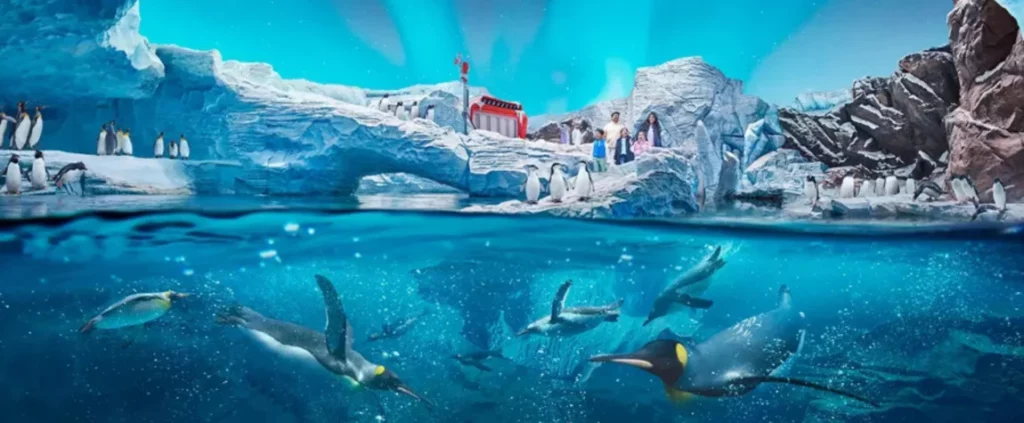 Prepare to embark on an incredible adventure through the colorful center of Abu Dhabi as we explore the mesmerizing world of Sea World Abu Dhabi. located in the middle of this booming metropolis, is much more than a marine park; it's an immersive experience that provides an interesting view into the underwater universe.
Prepare to be captivated by the incredible marine life, concerned with the environment initiatives, thrilling attractions, and family-friendly entertainment as you plan your Abu Dhabi city trip. Sea World Abu Dhabi has something for all, whether you're a marine Interested an adventure seeker, or seeking for an engaging family day out.
Here are the The top 10 facts about Sea World Abu Dhabi
1. Mesmerizing Marine Life
 Sea World Abu Dhabi has a remarkable variety of sea animals such as bottlenose dolphins, orcas (also known as killer whales), and sea lions which play tricks.
In realistically reconstructed settings you will discover an abundance of sea creatures and learn more about the mysteries of the watery world.
2. The World's Largest Aquarium
The main attraction point in Sea World Abu Dhabi is the huge fish tank, recognized as being the biggest in the world.
A rare opportunity will be presented in this case where you can walk through a 35 meter long tunnel with over 15000 marines, surrounding you for a full 360 degree immersion.
3. Eco-Friendly Initiatives
Abu Dhabi's effort towards sustainability is evident in the park. The Sea World Abu Dhabi is built with low carbon emissions, water conservation and energy recycling goals in mind.
Its involvement in marine conservation initiatives like rescue and rehab of marine animals and funding marine studies.
4. Family-Friendly Fun
The park encompasses a number of attractions fit for various people, allowing for family recreation.
Children are involved through education programs in addition to the interactivity of exhibits, but adults also enjoy this experience.
5. Thrilling Rides
The adventurous lovers will enjoy visiting the Sea World Abu Dhabi where there is a variety of exciting rides and rollers that guarantees adventure-filled day.
The rides in this section are inspired by the ocean's dramatic natural energy and if you are willing for heart pounding adventures then you should not skip them.
6. Live Entertainment
Live shows are provided in the park such as acrobatics performances, musicians' events, and educative information about the marine wildlife exhibits.
Such programs offer holistic experiences with thrill and culture.
7. Experiential Learning
Through interactive encounters, you can get up close and personal with dolphins, sea lions, and other marine wildlife.
You may feed and even swim with some of these amazing species, making your stay absolutely unforgettable.
8. Delights in the Kitchen
The eating options at Sea World Abu Dhabi range from simple cafés serving fast snacks to fine-dining restaurants offering a gourmet journey.
Enjoy your dinner while admiring the scenic sights of the aquatic beauties.
9. Academic Programs
The park is dedicated to teaching tourists on the value of marine conservation.
Look for educational activities and speeches where marine specialists share their expertise and address the difficulties that the world's oceans face today.
10. Suitable for All Ages
Sea World Abu Dhabi is intended for guests of all ages, making it an excellent choice for families, couples, and single travelers.
It's a place where you can be enchanted by the wonders of the sea, make lasting memories, and develop a better understanding of the world beneath the waves.
Conclusion
Sea World Abu Dhabi is more than simply a Abu Dhabi city tour attraction. it's an exciting journey through the marvels of the ocean that should be a highlight of your Abu Dhabi city tour. It provides an unforgettable vacation for guests of all ages, with its amazing marine life, eco-friendly activities, thrilling rides, and family-friendly attractions. This marine beauty is a must-see location for every ocean fan, adventurer, or family seeking for an educational day out, ensuring cherished memories and an in-depth connection to the world under the surface of the water. Don't skip up the chance to explore this underwater treasure while in Abu Dhabi.