The best things to do in Dubai for an Unforgettable evening
Dubai becomes a magical metropolis of lights, elegance, and enchantment at night. Dubai provides several amazing night-time experiences beyond its stunning skyline and luxurious buildings. From fine dining to stunning entertainment and cultural tours, the city offers a variety of ways to make an evening memorable. Here we have included some of the greatest things to do in Dubai for an enjoyable evening, so you can enjoy this mesmerising Arabian treasure.
 The best things to do in Dubai for an Unforgettable evening
 1. A Creek Night Dhow Dinner Cruise
Start your evening with a relaxing dhow sail on Dubai Creek, where history and modernity merge. Board an intricately painted wooden dhow with colourful illumination. Gliding through the peaceful waterways offers beautiful views of the city's cityscape. The dhow glides by Al Fahidi, where wind towers and architecture glow with subtle lights, creating beauty. A lavish buffet of foreign and Arabic cuisine and live entertainment make it a fascinating mix of culture and food.
 2. Burj Khalifa: Star Touch
No Dubai visit is complete without visiting the Burj Khalifa. Night-time visits to the landmark tower reveal the city's skyline under a blanket of stars. The 148th-floor "At The Top SKY," observation deck, offers an unmatched nighttime metropolitan perspective. Dubai's lights reaching towards the horizon are stunning. Remember to photograph this magnificent moment, and if you time it correctly, you may see the Dubai Fountain performance from above.
3. Dubai Fountain Show: Water and Light Dance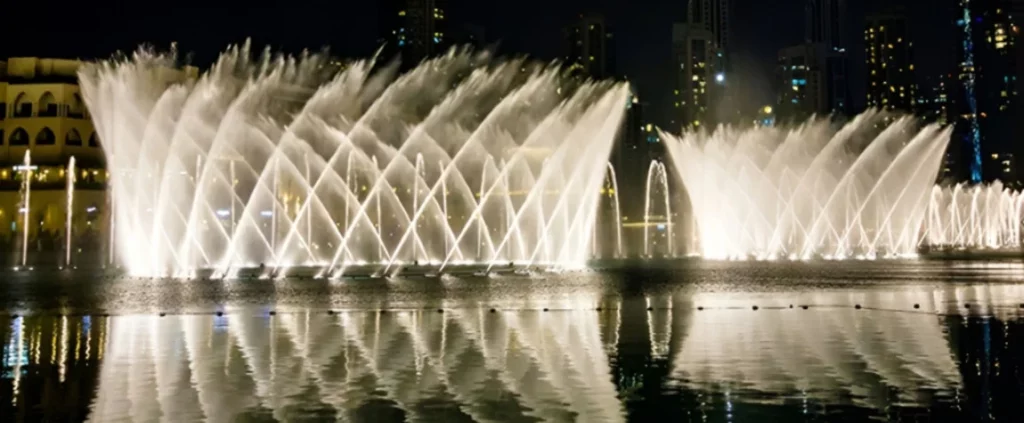 Watch the Dubai Fountain performance from the Burj Khalifa base in the evening. This stunning show has coordinated water jets that soar 45 stories high and elaborate lighting and music. The fountains dance to classical and modern music, producing a spectacular spectacle. For a front-row view of this stunning spectacle, sit beside the Burj Lake.
4. Pierchic Dinner: Seaside Romance
Pierchic is an immersive dining experience that will make your evening memorable. The restaurant's own pier on the Arabian Gulf offers stunning views of Dubai's shoreline and metropolis. The freshest catch of the day is used to create the delicious seafood menu. Pierchic guarantees a lovely evening dinner beneath the stars with the sea lapping.
5. Dubai Opera: A Cultural and Entertainment Night
Dubai Opera is the city's top cultural venue for world-class performances. Dubai Opera presents a wide programme including opera, ballet, classical music, and contemporary theatre. The venue's beautiful architecture and acoustics make it ideal for a refined evening of art and culture.
6. Desert Safari: Stargazing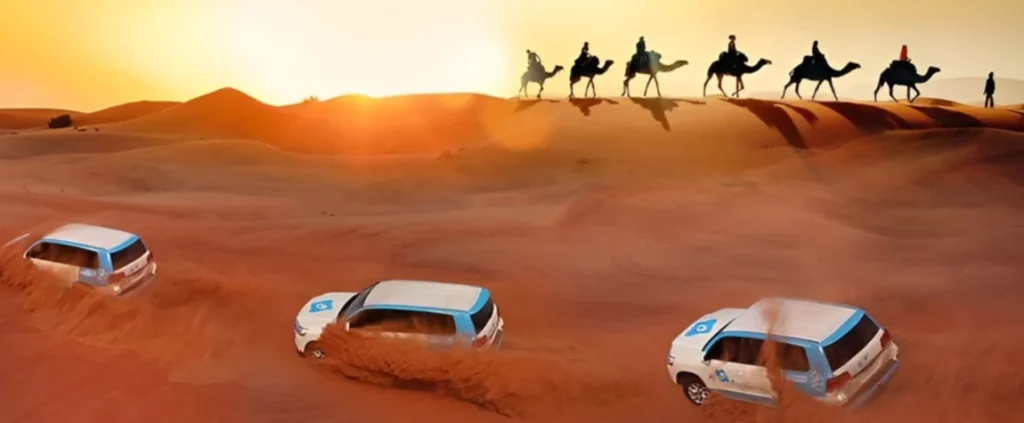 Experience the Arabian Desert for an evening away from the city's flash and splendour. The dunes are an incredible experience on a 4×4 desert safari. The sunset over the sand dunes is breathtaking, and you'll stay in a Bedouin tent at night. You may feast on BBQ, relax in cosy sitting, and try henna and camel rides here. The highlight is stargazing beneath the bright desert heavens, a peaceful experience that links you to nature.
7. Al Fahidi Historical Neighbourhood: Time Travelation
Explore Dubai's rich history and tradition in Al Fahidi Historical Neighbourhood, also known as Al Bastakiya, for an evening. The tiny alleyways, wind towers, and mud-brick buildings represent the city's history. Art galleries, cultural centres, and cosy cafés fill the neighbourhood at night. The Dubai Museum at Al Fahidi Fort shows the city's growth from a fishing town to a worldwide metropolis.
8. Dubai Marina Walk: Waterfront Walk
Dubai Marina is a lively waterfront neighbourhood at night. Walk casually down Marina Walk, dotted with cafés, restaurants, and stores. Glistening marina waters and towers make a stunning background. Dinner cruises along the marina provide beautiful views of the metropolis and waterfront mansions.
9. Global Village: World of Entertainment
An international cultural spectacular, Global Village brings together numerous civilizations. The park is lively at night with colourful lights. Explore country pavilions, eat foreign food, browse for unusual goods, and watch live entertainment. For an exciting evening, families may visit Global Village due to its dynamic atmosphere and range of attractions.
10. Dubai Mall: Shopping, More
Dubai Mall is more than a retail mall—it's an entertainment hotspot with lots of nightlife alternatives. Visit the Dubai Aquarium and Underwater Zoo, ice skate at Dubai Ice Rink, or dine at one of the mall's many restaurants. The mall's location next to the Burj Khalifa lets you watch the Dubai Fountain performance from one of its observation areas.
Conclusion
For an amazing evening, Dubai, the UAE's shining gem, has several engaging experiences. Dubai's tapestry of alternatives will leave an unforgettable imprint on residents and visitors on Dubai city tour. Dubai's technological marvels, from the dhow dinner ride along Dubai Creek to the Burj Khalifa's star-studded sky, fascinate the senses. The Dubai Fountain performance is mesmerising, while Pierchic provides romantic seaside eating.
Dubai Opera and the Al Fahidi Historical Neighbourhood provide art and history experiences. Meanwhile, a desert safari under the starry desert skies provides a unique connection to nature. Dubai Marina Walk, Global Village, and Dubai Mall provide waterfront strolls, cultural discovery, and family-friendly entertainment. Every evening in Dubai is an opportunity to create lasting memories. From romance to culture, adventure to a spectacular view, Dubai invites you to create an extraordinary evening that transcends time and place.