The best 7 amazing things to do in Abu Dhabi
Abu Dhabi is rapidly developing into a destination in its own way. Even though it has the vibrancy and beauty that tourists seek in Abu Dhabi. However, Abu Dhabi has just opened a number of sites and activities that are worth taking a vacation or holiday. The city has a mind-blowing action, contemporary style of architecture mixes with solid traditions passed along via centuries. One cannot fully appreciate the beauty and beauty of this beautiful town without taking an Abu Dhabi city tour.  On this fully-guided tour that covers the city's must-see sites as well as some secret local spots, while explain this city's interesting places in detail.
Here are the top 7 amazing experiences in Abu Dhabi
1. Visit the Sheikh Zayed Grand Mosque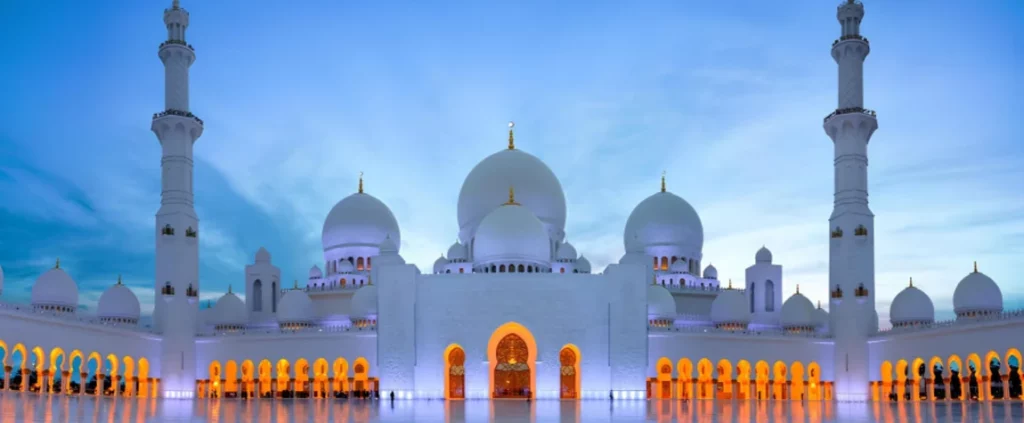 The Sheikh Zayed Grand Mosque is an astonishing piece of architecture that represents the cultural legacy of Abu Dhabi. The Grand Mosque, situated in the UAE, has the capacity of holding more than forty thousand worshippers. Its external is beautifully embellished with rare white marble, meticulous Islamic geometric patterns, and lapis lazuli/amethyst mosaics. The prayer hall features the largest chandelier and the world's biggest handmade rug, outstanding pieces of workmanships. Peaceful it's an architectural miracle welcoming people of all religions. Visitors should be dressed modestly in abayas and headscarves.
2. Take a Desert Safari
Abu Dhabi is located in the Arabian Desert an amazing wonder of nature that waits for anyone to explore it. Desert safari is thrilling, starting from adrenaline rushing and nerve-challenging ride on the sand dunes in a 4×4. Even the ride up and down the majestic sand hills is an experience. Additionally, you can ride on their backs or sand board, and maybe even explore a Bedouin camp with them. Have henna designs applied on your hand, enjoy a hookah pipe and taste a delicious BBQ dinner at our backyard garden under the starry desert nights.
3. Explore the Louvre Abu Dhabi
In fact, the Louvre Abu Dhabi is not just an art museum but a cultural masterpiece in its own right. The museum's signature work is the impressive dome created by famosn architect Jean Nouvel that let sunlight into the building in an irregular pattern which creates the rain of light effect. It houses an array of art and historical items ranging from past cultures to recent creations, across various regions globally. It's that spot on the planet where various civilizations and cultures get together and create a fantastic possibility to discover the world of art and culture of humanity.
4. Stroll Along the Corniche
The Corniche in Abu Dhabi features an impressive 8 kilometers long stretch along the coastline of the Arabian Gulf. The surroundings are great for enjoyable walking, running and cycling. You can hire a bike or just enjoy the sight of the shimmering water and impressive skyline of the city. The Corniche is a beautiful place to spend a family day out with its parks, children play fields, and distinctive beach areas. There is no way you wouldn't love that! Here, one can calm down, relax, and admire the lovely nature and tranquility of the ocean.
5. Yas Island Adventures
Abu Dhabi is home to an entertainment and adventure paradise by the name of Yas Island. Adrenaline junkies should certainly visit Ferrari World. This place is where Formula Rossa, the fastest roller coaster in the world, is located. Yas Waterworld is home to more than 40 water ridden and attraction, this include a waterslide that will take you in a tornado effect. With this in mind, if you are passionate about formula one, Yas Marina Circuit is ideal for karting and excursions. On the contrary, Yas Mall offers plenty of options for shopping and dining that could spice up your day.
6. Cultural Experiences at Qasr Al Hosn
The oldest stone building in Abu Dhabi is Qasr Al Hosn, known as the White Fort and it speaks of Abu Dhabi's heritage in its own way. The ancient site has been carefully renovated so that it can give one a taste of the history of Abu Dhabi and U.A.E. The center boasts of exhibition and interactive showcases depicting the history and growth of the Emirate. Qasr Al Hosn offers a vivid cultural experience at the heart of an ever-changing city.
7. Dine in Style
A fusion of international tastes he cuisine scene in Abu Dhabi. With countless dining options to discover, including savouring the traditional Emirati cuisine and feasting on global flavours. For visitors craving something indigenous or regional, a local cuisine should be on their menu that can include shawarma or falafel as well as kunafa. Choose any luxury restaurant, perched in one of the city's famed skyscrapers that allow patrons enjoy the spectacle of the city and the Arabian Gulf. Eating out in Abu Dhabi is more than just food; it is a whole experience.
Conclusion
Discover the fantastic world of Abu Dhabi in this tour for tradition and modernity. Discover the amazing Sheikh Zayed Grand Mosque, explore the skyline at the Corniche, dive into art and history at the Louvre Abu Dhabi. Discover how the city has evolved during your visit and experience exciting adventures in Yas Island and the desert. Enjoy mouth-watering Emirati food and global meals on special occasions. Abu Dhabi is the place where past meets the future, providing unique opportunities that can leave memories forever in one's soul.