The Top 8 budget-friendly places to visit in Dubai
Dubai, famed for its elegance, may appear pricey for budget travelers. Dubai has several affordable sights and experiences to discover the city beneath the glittering skyscrapers and luxurious retail malls. From cultural jewels to nature getaways, Dubai has several inexpensive yet stimulating options. This post will cover Dubai's top 8 budget-friendly destinations, illustrating that the city offers something for everyone.
The Top 8 budget-friendly places to visit in Dubai
1. The Heart of Old Dubai: Dubai Creek
Dubai Creek separates Deira & Bur Dubai, a historic canal. Dubai's commercial history is revealed through exploring the creek. An abra, a wooden canoe, crosses the creek for a low cost. Visit Al Fahidi Historic District to see the Dubai Museum and lovely lanes with art galleries and cafés.
2. Affordable Jumeirah Beach Relaxation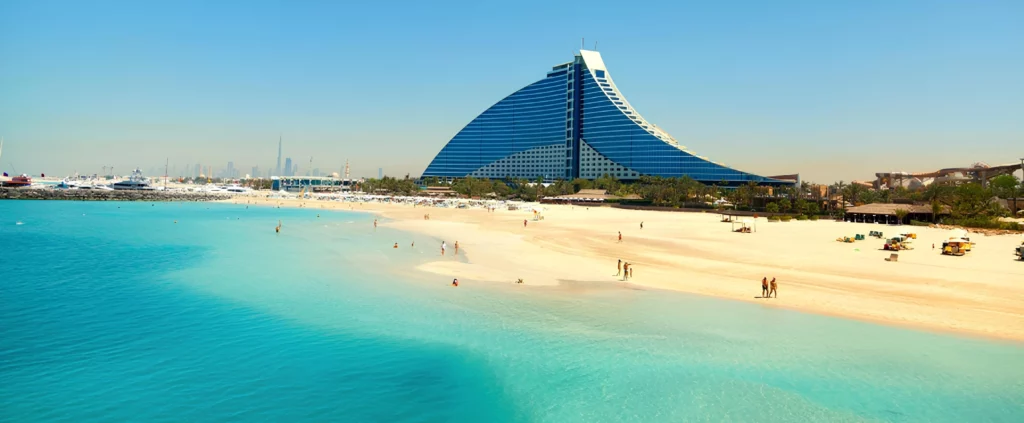 White sands and clean seas make Jumeirah Beach a great place to unwind without spending a bunch. Free beach access allows swimming, sunbathing, and picnics. The beach's view of the Burj Al Arab hotel makes it a lovely spot for a cheap beach day.
3. Dubai Miracle Garden: Floral Extravaganza
The Dubai Miracle Garden is a stunning destination with many colourful flowers and art works. The garden offers a cheap retreat to nature in the cooler months. Visitors may see beautiful flower arrangements and themed gardens for a modest charge.
4. Dubai Mall Fountain Show: Iconic Entertainment
The Dubai Fountain performance is free inside the Dubai Mall, a shopping paradise. The fountain moves to music and lights, captivating crowds. The fountain show is a cheap way to see Dubai's architecture and entertainment.
5. Cultural Tour and Shopping: Global Village
Global Village becomes a dynamic cultural hub throughout its yearly season, giving a budget-friendly way to see the world through cuisine, shopping, and entertainment. International food, unique items, and live performances from diverse nations are available for affordable admission.
6. Dubai Opera Garden: Affordable Art and Views
Dubai Opera has several shows, but did you know you can see the Burj Khalifa for free from the Opera Garden? Enjoy outdoor opera and concert screenings on a huge screen with a blanket. The cost-effective method to enjoy culture and architecture.
7. Dubai Spice and Gold Souks: Real Bazaars
Dubai's true culture requires visiting the traditional souks. You may browse small lanes of spices, fragrances, and gold jewellery at the Dubai Spice Souk and Gold Souk. These bazaars provide cheap cultural experiences, but buying is optional.
8. Natural Retreat: Ras Al Khor Wildlife Sanctuary
Ras Al Khor Wildlife Sanctuary is a peaceful retreat for budget nature lovers. The refuge attracts birdwatchers and photographers with its many bird species, including flamingos. Entrance is free, and the boardwalks offer a peaceful view of the Dubai cityscape and animals.
Conclusion:
The top 8 budget-friendly Dubai destinations redefine luxury by providing affordable and enjoyable experiences. These attractions demonstrate Dubai's willingness to accommodate various budgets and interests, making it a popular travel destination. A Dubai private tour may display the city's luxury and grandeur, but these budget-friendly sites reveal its charm.
From the historic charm of Dubai Creek and the relaxation of Jumeirah Beach to the stunning floral displays of the Dubai Miracle Garden and the iconic Dubai Mall Fountain show, these attractions create memorable moments without breaking the bank. Dubai's versatility comes from Global Village, the Dubai Opera Garden, the Spice and Gold Souks, and Ras Al Khor Wildlife Sanctuary.
Dubai's commitment to affordable experiences ensures that any traveller can make lasting memories. These budget-friendly venues add to Dubai's charms, whether you're enjoying the skyline from a calm refuge or exploring the local culture at crowded souks. Dubai's experiences illustrate that luxury isn't just about extravagance but also about connecting with the city's history, culture, and natural beauty.